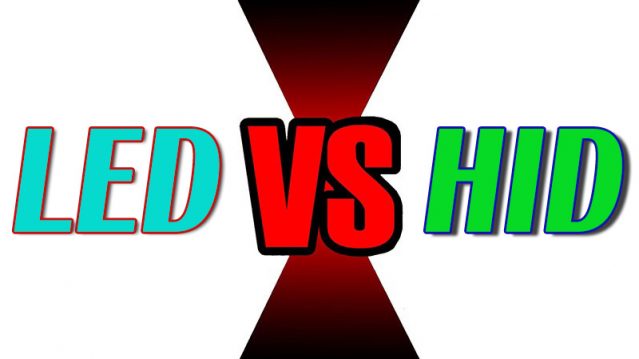 LED and HID (high-intensity discharge) lamps are some of the lighting solutions that are available today. Which one to choose,HID or LED ? Knowing the difference between HID and LED can help you make an educated decision on what's best for your application and budget.
What is HID lights?
The high intensity discharge (HID) lights are the lighting solutions that contain electrical gas-discharge lamp which is responsible for producing a light through electric arc. This means that HID lights replaces the filament of a light bulb with a gas capsule. The light emanates from the arc that is discharged between two closely spaced electrodes. The amount of light produced by it is higher than the light produced by halogen bulb. The HID bulbs produces around 5% of their outcome when they are first ignited. And within 20 seconds they reach to their full output.
Types of HID Lamps
Mercury-Vapor:
Mercury-Vapor lamp creates an electric arc through vaporized mercury that produces a bluish-green light. The designer use an outer bulb envelope to insulate the bulb and protect against ultraviolet radiation. Mercury-vapor lamps are the oldest type of HID lighting. They are being phased out because of the increased efficiency and better color rendition of metal-halide lights.
Metal-Halide:
Similar with mercury-vapor lamps, an electric arc is created through vaporized mercury. However, metal halides (such as sodium, indium, and thallium) are added to increase efficiency and improve the light's color-rendering index (CRI). Also,an outer bulb envelope insulates the bulb and protects against ultraviolet radiation.
High-Pressure Sodium:
High-Pressure Sodium lamp uses mercury vapors and sodium to ignite an electric arc, which produces a gold-colored light that is used mostly in parking garages.
In fact, these lamps are best known for their higher efficiency at turning electricity into luminous light and their rated life. The HID lights requires a ballast so as to produce the initial surge of electricity needed to start them and to regulate the power at the time of normal operation.
What is LED lighting?
LED lighting is the most recent technology in energy efficient lighting.
LED stands for Light Emitting Diode. It is a p–n junction diode that emits light when activated. Different colors of LEDs are available. Its color depends on the energy band gap of the semiconductor. Early LED was used as indicator lamps for electronic devices. Now it is used in seven-segment displays, digital clocks, displays and sensors, advertising, general lighting, traffic signals, camera flashes, lighted wallpaper and medical devices etc. It has benefits such as it consume only less energy, it has long life, improved physical robustness, smaller in size, and faster switching.
LED lighting is a semiconductor tool which converts electricity into light. These smart lighting solutions are highly energy efficient, utilizing almost 85% less energy than incandescent or halogen lighting. Hence, it offers considerable savings on your energy bills. If you're looking for a LED lighting manufacturer, you can choose AIS LED as your LED lighting supplier who will offer you the best lighting solution.
HID VS LED Lights
When comparing the output of a HID to LED light source, we examine a number of factors, such as the life span of the light source, the lumen maintenance over time, as well as optical loss (specifically for the HID light source); in other words, we measure the luminous flux of the HID lamp installed in a luminaire so as to measure its efficiency. This way, we can compare the delivered lumens of both light technologies.
Here are the some differences which make LED a clear winner over LED vs HID lights battle.
 LED lights deliver powerful illumination as compared to HID lights. A 30 watt LED bulb gives the same illumination as a 100 watt HID bulb.
The average light efficiency of LED is 110 lumens per watt whereas a HID light stands at 70-100 lumens per watt. Furthermore, HID's brightness depreciates with the constant usage.
HID lights require a ballast to operate and also need timely repairs whereas LEDs work without ballast and deliver superior lighting.
Unlike LED, HID lights contain filament which make them more prone to breaking.
Unlike HID lights, LED lights are mercury-free lighting solutions.
Color Rendering Index (CRI) of LED lights is higher than HID lights. Greater the CRI, better the colour reflection.
Unlike LED, HID lights produce substantial amount of UV rays that cause dangerous skin & eyes diseases.
| | | |
| --- | --- | --- |
| | HID | LED |
| Light Efficiency | 60-90 Lumens/Watt (note:  brightness depreciates with the constant usage.). | 110+ Lumens/Watt and constantly improving |
| Durability | Fragile – has moving parts, glass bulbs, and filaments | Made with aluminum alloy and PC plastics – has no electrode or filament, shock & vibration resistant |
| Lifetime | 10,000 to 20,000 hours | 50,000 hours plus (many rated over 100,000 hours) |
| Lumen Depreciation | Moderately high | Rated life is the point which 30% of light is lost. LEDs will last much longer, but light output will continue to decrease over time. |
| Cold Tolerant | – 40 F | -30 F (instant on) |
| Performance | Requires 5-10 minute warm-up time, creates light in all directions | Turns on instantly, no flickering, ability to create focused light and omni-directional light |
| Color Temperatures | Few Options (3000 to 5000 Kelvin) | Multiple Options (2700 to 6500 Kelvin) |
| Color Rendering |  5 to 93 CRI | Average 80 to 95 CRI |
| Dimmable? | No | Most |
| Warranty | Usually 1 to 2 years | Typically 3-5 years |
| Cost | Lower upfront cost, but requires regular relamping and ballast replacement | High upfront cost but virtually no maintenance expenses |
In this matchup, LED lights come out the winner in four major areas: efficiency, lifespan, durability, and low maintenance. However, there are still some instances where an HID lights is still a smart choice. For example, HID lights make sense for temporary low cost lighting, extreme high temperature applications, or if you want to match existing ballasts and fixtures that are still in good shape.
In conclusion, LED lighting technology is advancing all the time and their benefits justify the higher upfront cost over HID lighting in most applications. Click the following link to view why we are your best LED lighting supplier.
You can learn more here:
About AIS : 
AIS LED is a leading LED lighting supplier with innovative green technology. We are specialized in the manufacturing of innovative, next-generation LED lighting solutions such as E27/E40 LED corn bulb, LED street lights, PL G24 LED lights, PL G23 LED bulbs, portable LED work lights, LED Flood lights,R7S LED bulb, LED stadium lights and so on. AIS LED is committed to providing high-quality, sustainable, green lighting solutions to the world LED lights market.