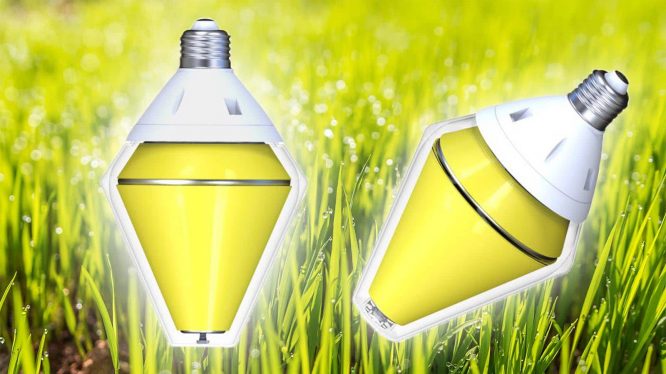 The LED corn bulb is comprised of small LED lamps which create an intense brightness. They allow you to see more clearly. When using LED corn bulb,you don't need to change the whole lighting fixture. What you need is just replacing the lighting source inside the lighting fixture. They are available of E26,E27,E39,E40 base. You can use them for many different indoor and outdoor applications. For example,you can use them as street lights, garden,warehouse,workshop,parking lots, high bays, security lighting and many more. Making the switch from incandescent,CFL,HID,HPS lamps to LED corn lamps is an excellent decision
As a leading LED corn light supplier, AIS has created a full guide for you to choose the right corn bulb that meets your requirements. Take a look at these tips for how to choose LED corn lights.
What is LED Corn Bulb?
LED Corn Bulbs are named for their appearance. They are an assembly of light-emitting diodes(LEDs) on LED lights. They have lines of square LED on all sides of their surface. The diodes(sometimes hundreds) are mounted to a metal "cob" that has as much surface area as possible to keep the diodes cool.They are normally 360° beam angle so their lighting can lit every where.

Why more and more People Choose LED Corn Bulbs ?
LED lighting has become popular rapidly in recent years. There are numerous reason. The main reason is they are energy efficient than the traditional CFL,incandescent bulbs,HID and HPS lamps. For example,if HID VS LED,LED will be the winner without any doubt. Another reason is that they are easy to install. They don't need any ballast which most of the traditional lamps need.
As one kind of LED lights, LED corn bulbs have the common advantages as other LED lights,like long life span,energy efficient and so on. They also has other advantages. As they are normally 360° beam angle,they can used to replace all the kinds of traditional lamps which is also 360° beam angle.
Available lamp Base
You can use corn LED lamps in most of screw-in sockets. When you choose a corn lamp, you will have to make sure you choose the right light base. There are LED corn bulbs for E40, E27(Edison), mogul(E39), and medium(E26) base, and more are being developed everyday.

How to install LED corn bulbs?
It's as easy as screwing in a light bulb! There are just two things you should pay attention. First,you need to short the ballast if the original lamps use ballast. Second,please make sure the corn lamp's dimensions will fit into the lighting fixture that you are trying to install.
How to Choose LED Corn Bulbs
1, Color Temperature
Color temperature refers to the color appearance of the light that comes from a light source.
The color temperature creates the mood of the space you are lighting and can thus influence buying behavior or work performance.
Normally, LED corn bulbs are available in various colors. They range from 2700K – 6000K
2700-3000K : This provides a warm white color making it best suited for houses and restaurants.  It creates a softer more relaxing environment
4000K -4500k: This is a white natural light that is great for business are or other work areas. The reason is that it replicates the daylight.
5500K-6500k: It is a white light that is great for large spaces and outdoors.
2, Lumens
While wattage measures the amount of energy required to light products, lumens measure the amount of light produced. This means that when you are looking for the LED bulb, you should look at lumens instead of watts. The more lumens the product has, the brighter the light source is.
Now in the LED lighting market,most of the supplier offer LED lamps with around 100lm/W. But at AIS,our LED corn lamp has the lumens around 130lm-160lm/W. According to this data,you can choose the right LED corn bulbs.
400-watt metal halide = 100W-140W LED corn lamp (12,000 lumens to 18,000 lumens)
250-watt metal halide = 60W-100W LED corn light (9,000 lumens to 12,000 lumens)
150-watt metal halide = 50W-80W LED corn bulb (7,000 lumens to 9,000 lumens)
100-watt metal halide = 30W-50W LED corn bulb (5,000 lumens to 8,000 lumens)
3, Warranty
Warranty is another factor you should consider. It's not just the service you will get after purchasing. It's also about quality. If your lighting supplier can offer longer term warranty,it means that their LED corn lights has good quality. At AIS,we normally offer 3- 5 years warranty for our LED corn bulb.
4, Beam angle
In LED corn lighting market,there are 2 common types of LED bulbs. One offers 360 degrees of light, whereas the other offers 180 degrees.
The LED bulb that offers 180 degrees of light provides light that is focused downward. On the other hand, the corn bulb that offers 360 degrees of light is for lighting full area. They provide light in all the directions. With the help of a reflector, you can even out the light of the bulb.
You can decide which one to choose according to your needs. They are the best choice for many outdoor and indoor applications.
5, Lighting size
LED Corn bulbs are available in plenty of fittings because there are varied series with different size. Before you choose corn lamps,you need to check the fitting size in order to match your new bulb. At AIS,you can find the right measurements of our corn lamps. It will help you to make the right decision.
6, Input Voltage
The input voltage is another factor you should consider. Normally,the LED corn lamp can support input voltage which is 85-265VAC. This means if the your country's input voltage is in this range the lamps will work well. But if your input voltage is 277VAC ( in USA),you should choose the lamp which support 277VAC.
These are the knowledge about LED corn lamp that we would like to share with you. With the help of these tips, we hope you can find the right corn bulb. If you need have any other questions,you can comment below or contact our LED lighting expert. We are waiting to assist you all the time.
About AIS : 
AIS LED is a leading LED lighting supplier with innovative green technology. We are specialized in the manufacturing of innovative, next-generation LED lighting solutions such as E27/E40 LED corn bulb, LED street lights, PL G24 LED lights, PL G23 LED bulbs, portable LED work lights, LED Flood lights,R7S LED lamp, LED stadium lights and so on. AIS LED is committed to providing high-quality, sustainable, green lighting solutions to the world LED lights market.