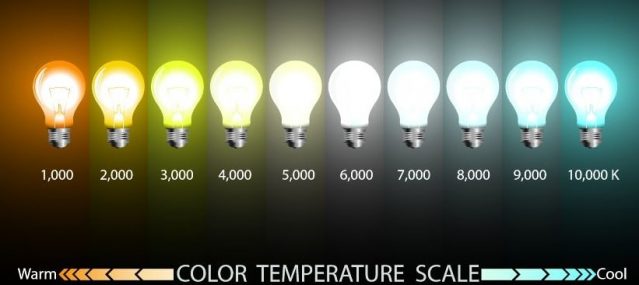 If you are a lighting designer or ordinary homeowner, you may be looking for the right LED lighting for your project or your home. The common question you will ask : What color temperature to choose. Today AIS LED will share with you some tips about how to choose the right color temperature of LED lighting for home and office.
What is color temperature
Color temperature describes the color shading of the light given off. It is related to the temperature of a hot glowing black body radiation in science and physics. You may think that the color temperature is odd because the high temperature are described as cooler colors. It is measured in degrees of Kelvin (K) on a scale from 1,000 to 10,000.
The following is the chart of color temperature.

How to Choose the right color temperature of LED lighting for home and office
The color temperature of a LED light is assigned using the basis of correlated color temperature (CCT). There are three types: warm white, cool white, daylight. Different color temperature will give people different feeling. For example, warm white will make you feel warm. The following chart shows the details.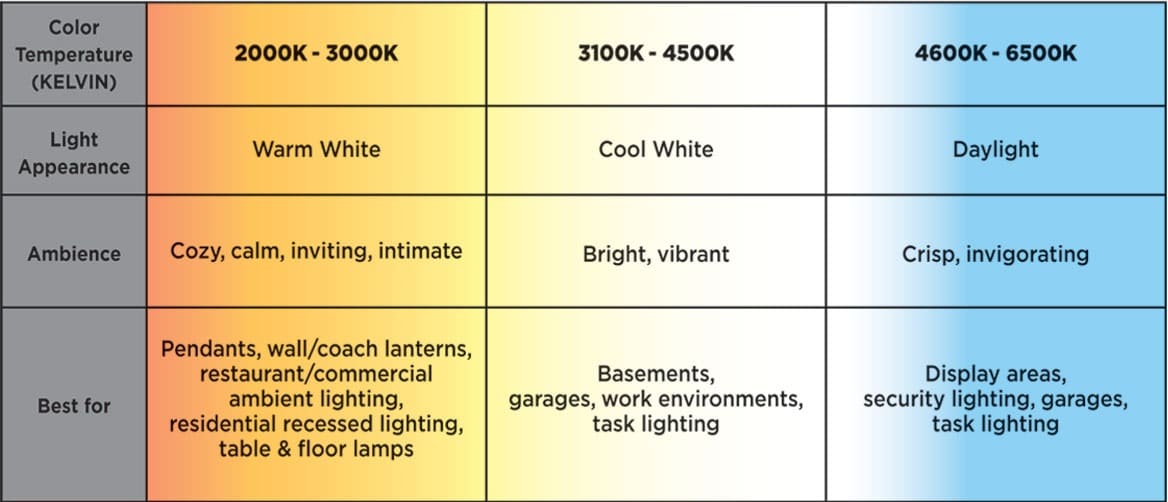 Now you may already have some ideas of how to choose the right color temperature of LED lighting. You can use different color temperature of LED lights to create different ambience.
2700K-3500K
Normally, to light a residence, 70% of your LED lamps should be 2700K-3500K, which is about what normal incandescent looks like. We do not need to consider any warmer (lower color temperature) than this anywhere. This would go in your Dining room, Kitchen, Living room, Den, Bedrooms, Kids Playroom, etc. There is no reason to use anything else.
4500K-5000K
For less cozy rooms such as Office, Game room, Exercise room, etc. We need cool it off a bit and use 4500K. This will make those rooms appear brighter and keep the occupants more alert. There would be nothing wrong with using 5000K here also if you don't care for 4500K.
6000K-6500K
You don't need to use 6000K to 6500K for any rooms unless you have a place where you have critical tasks, such as a hobby room, shop, or maybe in your garage. Once again there is nothing wrong with using temperatures 5000K or below here also.
Exterior lighting
Exterior lighting could be anything you like, depending on how you feel about it. If you want it to appear home like, use 3000K. If you want it to look a little less inviting use 3500K. For example,you can use LED flood lights to lit your plants in the back yard. If you have LED corn lamps in you post top lighting fixtures, you can use all these LED lights with 3000K-3500K.
You can use LED lighting in these space. LED lighting is energy efficient than other traditional lamps. Now that prices are down and reasonable, there is no reason not to have LED lighting everywhere. It can easily save you 80% of your lighting bill, for very little cost now.
About AIS : 
AIS LED is a leading LED lighting supplier with innovative green technology. We are specialized in the manufacturing of innovative, next-generation LED lighting solutions such as E27 E40 LED corn lighting, LED street lights, PL G24 LED lights, PL G23 LED bulbs, portable LED work lights, LED Flood lights, 118mm/78mm R7S LED lamp, LED stadium lights and so on. AIS LED is committed to providing high-quality, sustainable, green lighting solutions to the world LED lights market.