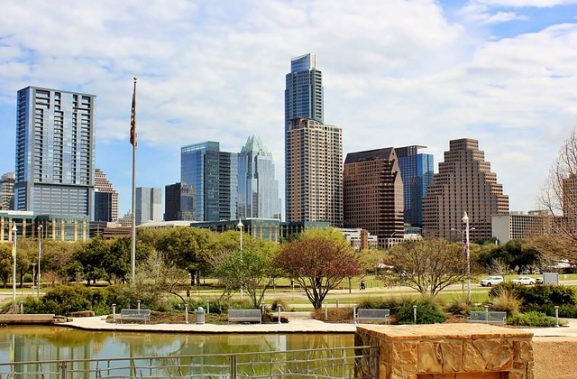 The city of Austin, Texas USA , the capital of the U.S. state of Texas, has reportedly joined in Cree's LED City initiative. Austin is the fourth-largest city in Texas with a population of 1.5 million and is among the fastest growing cities in the United States. Cree, Inc., announced that the City of Austin today joined the LED City program, an international initiative to deploy and promote energy-efficient LED (light-emitting diode) lighting. Austin joins Toronto, Canada, Raleigh, North Carolina USA, and Ann Arbor, Michigan, in evaluating and deploying state-of-the-art LED lighting technology in their municipal infrastructures.
In December 2007, the City of Austin and Austin Energy retrofitted a floor of the One Texas Center Parking Garage with 47-watt LED fixtures from Beta LED. LED fixtures have also been installed in a hallway at Austin Energy headquarters, in streetlights on Barton Springs, in the Palmer Events Center marquee sign, and in the water fountain at the new Palmer Events Center Park. Austin plans to have additional test installations throughout the City, including a portion of the lights surrounding the Lady Bird Lake Hike and Bike Trail.
About AIS : 
AIS LED is a leading LED light manufacturer with innovative green technology. We are specialized in the manufacturing of innovative, next-generation LED lighting solutions such as E27/E40 LED corn bulb, LED street lights, G24 LED lights, PL G23 LED bulbs, LED work lights, LED Flood lights,R7S LED bulb, LED sport lights and so on. AIS LED is committed to providing high-quality, sustainable, green lighting solutions to the world LED lighting market.