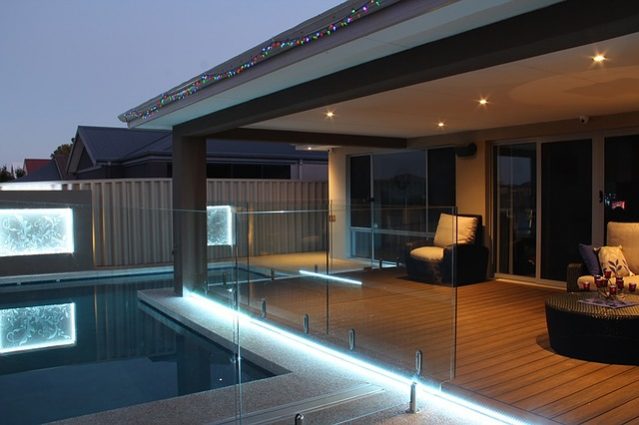 With the rising temperature, we're enjoying the weather and trying to spend as much time outside as possible. Grilling, bonfires and watersports are favorite past-times in our family.
With more time on our deck and patio, we pay closer attention to the exterior of our home. Maybe you already planted the annuals, watered the perennials, uncovered the deck furniture and fired up the grill. In fact, you can dress up your favorite spaces with outdoor lighting techniques that will make an impression without breaking the bank. Where can we start? Here are 4 outdoor lighting tips to decorate our home.
1, Shadowing
You can place the light in front of an object, which then casts a shadow on the surface behind an object (typically, the house). This effect can add depth and interest to the exterior of our home, while also adding enhanced safety by calling to attention the home's exterior.
2,Uplighting
Uplighting means to illuminate an area, surface or object from below to create a focal point in your landscaping. To do this, a spotlight is typically used to showcase a tree in the foreground, while the home in the background remains dark. Uplighting is a great way to showcase flowering trees and other features that are at eye-level or above.
3,Path Lighting
Path lighting is likely the most common outside lighting technique. Along with improving the safety of our walkways, path lighting can also enhance dynamic landscaping elements like flower beds, shrubbery and borders. A mixture of high and low path lights can give our walkways a brighter look and a feel that is welcoming and inviting to us and our guests.
4,Deck lighting
We often spend so much time and money on the building of the deck and the perfect furniture, but rarely do we factor in the lighting that will truly make your deck unique, not to mention more functional. Deck lighting has the power to improve the safety of our deck by highlighting the stairs and also makes the deck more noticeable and appealing.
Other Things to Consider when we design outdoor Lighting
LED or traditional bulbs? LED lights are typically a more affordable and long-lasting option for outdoor spaces. They are energy saving and long life pan. Make your selected lighting features work with LED bulbs.
Digging restrictions: Are there any sprinkler, cable, telephone or power lines in your outdoor space to be aware of when digging for your exterior lighting?
Electrical needs: How will your outside lighting features tie into your home's power supply? How much power will you need for the lighting styles you've selected?
Focal points: What do you want to stand out? What areas need additional safety features?
DIY or Call in the Pros? While simple stake lights can easily be installed over the weekend, lighting designers offer a more unique, stunning display and can handle the project from start to finish.
Planning a beautiful, well-lit outdoor space can be overwhelming. If you're dreaming of a beautiful outdoor living space but none of the hassle, You can find lighting designers to help you. If you don't know which lights to choose, You can reach out and we'll find out the suitable LED lights for your outside space around your budget.
About AIS : 
AIS LED is a leading LED lighting supplier with innovative green technology. We are specialized in the manufacturing of innovative, next-generation LED lighting solutions such as E27/E40 LED corn bulb, LED street lights, PL G24 LED lights, PL G23 LED bulbs, portable LED work lights, LED Flood lights,R7S LED bulb, LED stadium lights and so on. As a professional E40 LED lamps manufacturer,AIS LED is committed to providing high-quality, sustainable, green lighting solutions to the world LED lights market.